Workshop on Research Infrastructure and funding alignment needs for CST in Europe
March 7 @ 8 h 30 min

-

16 h 00 min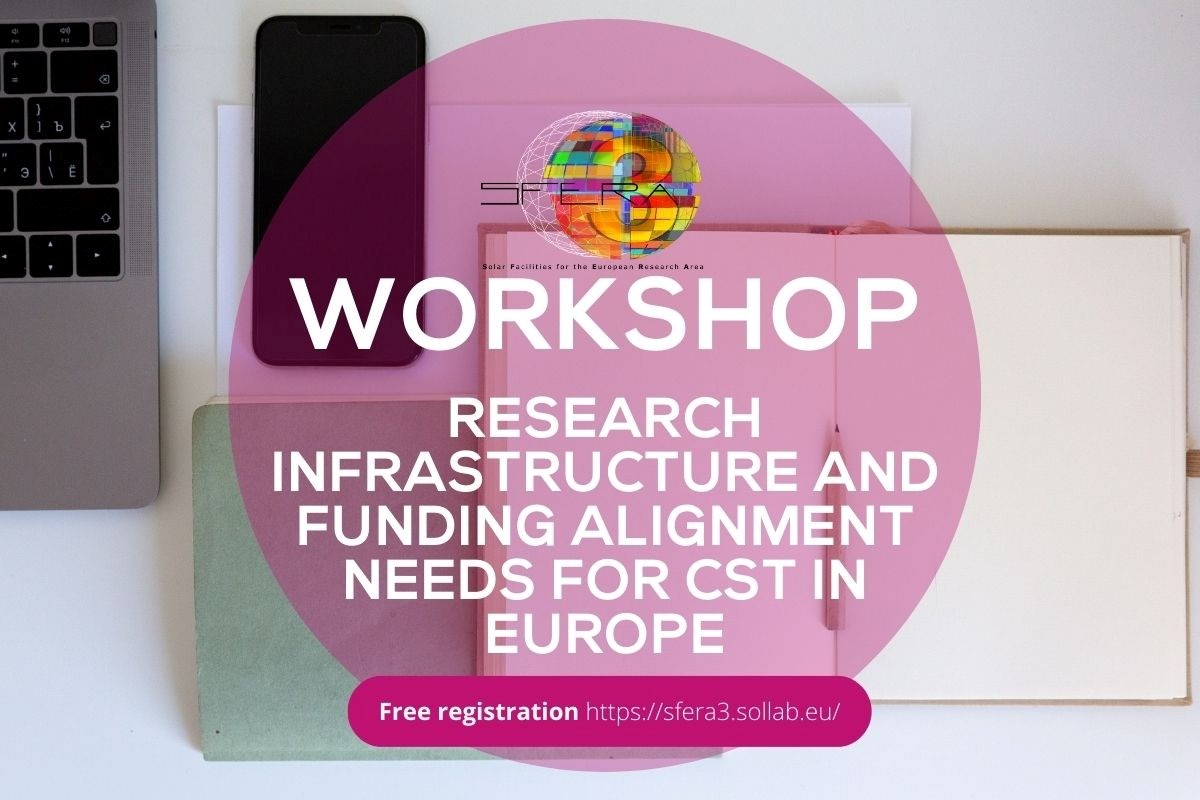 Location: European Energy Research Alliance (EERA) offices, Rue de Namur/Naamsestraat 72, 1000 Brussels, Belgium
Date: 7th March 2023
Agenda: Link
Registration: Link 
Deadline: 3/03/2023 for physical attendance and 6/03/2023 for online attendance.
Target group: Representatives from European CST companies and associations; Representatives of CST Research Infrastructures; National and Regional Research funding agencies; Policymakers; European Commission.
Description: SFERA-III (Solar Facilities for the European Research Area – Third Phase) is monitoring the needs of the Concentrated Solar Thermal (CST) technology related industry and scientific communities to guarantee that the existing facilities fulfil all the present and future needs of the CST technology in the scientific and industrial domain. Having identified the new infrastructures and services to reach the targets foreseen in the SET Plant to foster an effective use of resources for the new investments, a strategy for a funding alignment is advisable.
The purpose of this European workshop is, on the one hand, to present the different national concept notes on CST of participating countries and seek to identify synergies aiming for a joint position on funding of CST-related infrastructures. On the other hand, the workshop aims to analyse the requirements to execute the activities identified in the CST Implementation Plan of the SET Plan.
Objectives:
to explain the role of CST in the context of the 'REPowerEU' plan and 'Fit for 55′ package.
to discuss the progress in the execution of the activities identified in the CST implementation plan (including the latest updates).
to present the list of CST related facilities and services currently available at European level and EU-SOLARIS, the recently granted European Research Infrastructure Consortium (ERIC) on CST technologies.
to highlight the new facilities and/or services needed to carry out the remaining or new activities identified in the CST Implementation Plan.
to give an overview of national concept notes developed during the SFERA-III project, with a focus on national and regional funding instruments for CST.
to discuss with national and regional funding agencies how best to align CST funding to fill the gaps and meet the objectives of the SET Plan.
Contact: Valéry Vuillerme (CEA), Tel.: +33 479 792 126, e-mail: valery.vuillerme@cea.fr and Nestor Fylaktos (CyI), Tel: +357 22 208 687, e-mail: n.fylaktos@cyi.ac.cy