CSP Training course for industry – Central receivers: optics of heliostats fields
8 July 2019 @ 0 h 00 min

-

12 July 2019 @ 0 h 00 min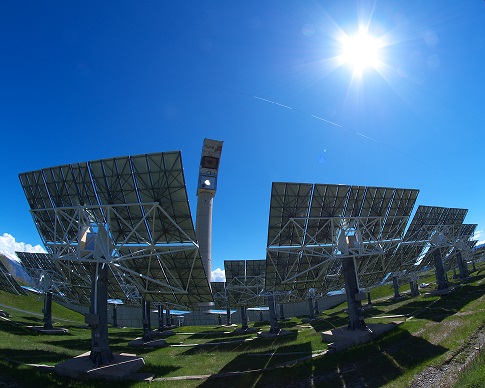 The course will include theoretical and practical modules covering the following topics:
Central receivers technologies and qualification: Typical thermodynamic processes for electricity and material production; storage technologies for solar tower; metrology of their power measurement; infrared receiver temperature measurement using UAV (drones).
Heliostats fields design and operation: Heliostat field design optimisation techniques and constraints such as latitude influence; raytracing software and design tools for heliostats fields; training with the free Solstice raytracing software; practical test case: visit of the wireless field of the solar tower Thémis at Targassonne; practical test case: visit of the wired field of the Solar Furnace at Odeillo.
Characterisation of heliostats fields: Optical quality determination techniques (photogrammetry, deflectometry); demonstration of the optical calibration of solar tower heliostats; power distribution and aiming characterisation techniques.
Target group: The course is for engineers, researchers and representatives from European CSP  industry and companies who want to be trained on real CSP hardware.
Language: English
Objective: This course focuses on central receivers plants and their optics. The training consists of both theoretical and practical modules.
Trainers: Scientists and specialists from CNRS-PROMES, Fraunhofer ISE, and DLR.
Final announcement and programme: to be downloaded here
To apply, please fill out the application form here and send it to: anja.kruschinski@dlr.de
Application Deadline: The registration deadline is May 24th, 2019 on a first-come, first-serve basis. Class size is limited to 15 participants. Eligible candidates will be informed until May 31st, 2019. The maximum number of participants per company is two.
Fees: No course fee is requested. Accommodation, meals and travel costs shall be covered by the participant. We suggest booking in one of the following hotels in Font-Romeu-Odeillo-Via: Grand Tetras Hotel (40 min  walking distance) or Hotel l'Oustalet (10 min. walking distance).
All lunches are proposed at the laboratory's restaurant (14,12 € including drinks).